It's my birthday in 23 days time.
Alex is effing hopeless at knowing what to buy me so he's given me free license to find things I want for a present instead. I am asking for a bread maker from one parent and an ice cream maker/mini-processor from the other, as I am quite hopeless at making bread and ice cream, but always want to nonetheless. Hopefully lots of kitchen goodies also.

I think I want the sort of dress that would make him vomit normally. I have been lusting over several self identified 'queer' things online over the past week and quite fancy this skirt. The uterus skirt:

I really like the idea of the skirt worn with band tees for a casual look. I worry I should be buying office wear now that I have a new job though. I really hate office wear. I actually sold both of my suits to pay bills recently, oh dear. I might wangle the copy of Crass - Penis Envy (LP version) that is currently sat on ebay also, for a very reasonable price nonetheless, if his pennies will stretch. I figure uterus skirt + 70s fem punk is a good combination.
I am very poor at the minute as I cancelled my overdraft the other night. So I'm not actually poor, but it really feels like it. I'm having to learn to live on the small amount of money I earn from ebay every month, instead of just always saying yes to things and spending too much on the pub, cinema and clothes I feel I have to have. So far it's been a positive learning experience - I've never not had an overdraft since leaving home, but found that recently it's been pretty harmful as when I've been stressed I've just spent and gone into it. Now I have to make sure I feed myself before spending, and I feel less stressed for it, oddly. I guess years of interest free overdrafts mean that you get conditioned into just spending and not thinking, so I feel good that I'm training myself not to do this! But I am sad that I can't really afford luxuries like posh farmers market sausages, nice hummus and exotic fruits and juices more often.
I'm also bargain hunting more for clothes, which reminds me of how much fun that is. Latest score is this body con skirt from Evans which is on sale for £7 online, but I also managed to get £5 off with a discount code so it only ended up being £2 (+£4 delivery, grr).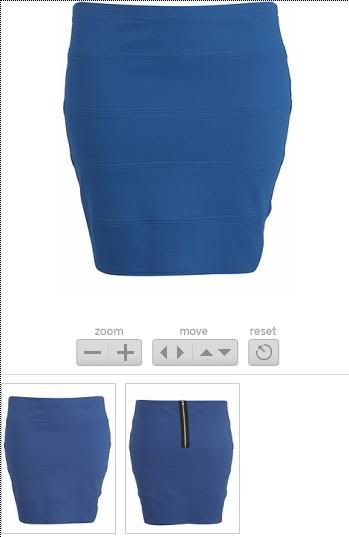 I start my new job a week on Monday and the terror level is already high. I am worried about making the money stretch, finishing my dissertation whilst working full time, and the hour commute but am hoping that the job will be rewarding enough to suffice. Plus, I'll be alone in a room with a digital hasselblad for the vast majority of the time, so I think it will suit me admirably.

In the mean time I am knitting lots and selling lots of things I don't need for extra money, plus baking (I made vanilla cupcakes with orange cream frosting yesterday, yum yum) cheaply to occupy myself. If I hit my target for the week with dissertation writing, I am going to reward myself with a weekend doing fun free things like reading in the park, museum/gallery hopping and walking in the countryside (although that requires a train ticket, so may not actually conspire to be free) so I don't get complete cabin fever.